Projects
Jaw Crusher Infeed Hopper
Clients > Graymont Australia
Project Year > 2020
Manufacture and Installation of Jaw Crusher Infeed Hopper and associated works.
Projects Scope:
Site Survey of existing infrastructure.
Shop detailing of New Infeed Hopper
Manufacture of Hopper and support structure.
Lining of hopper with impact resistant lining.
Removal of existing hopper and support structure.
Installation of new hopper and support structure.
Rework of shaker screen arrangement to suit new infeed arrangement.
Replacement and Realignment of drum dryer trunnion and guide rollers.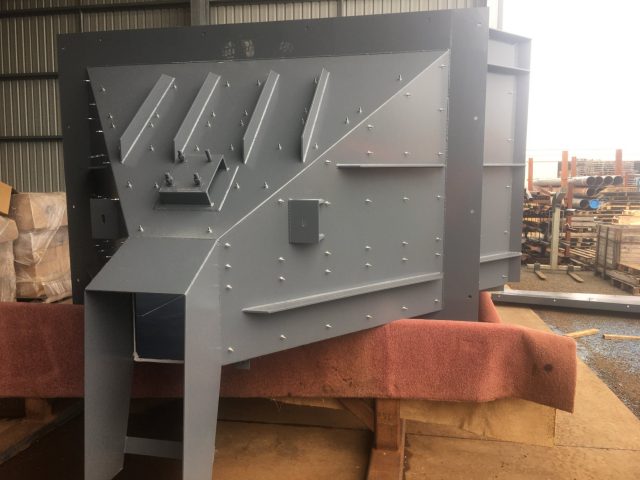 New Drum Dryer
Clients > Sibelco
Project Year > 2014
Manufacture and Installation of New Drum Dryer Building, Access Stairs, Catwalks and Platforms
Site Survey
Shop detailing of New Building Structure and associated access stairs and platforms
Manufacture of Steelwork
Installation of Steelwork
Coordination of Dryer Installation
Installation of Stairs, Platforms and interconnecting Catwalks
Combination Roller
Clients > District Council of Grant
Project Year > 2014
Design and Construction of a Road Combination Roller. A combination roller provides both commercial and, residential contractors with the compaction power of a vibratory drum. This provides improved productivity with the use of a singular machine.
Includes:
1.8m x 1.5m diameter 32mm plate drum
2.1m wide single pass compaction width
1.8 m wide single pass crushing width
Hydraulic lift for drum with manual locking mechanism for traveling
Hydraulic lift for drum drawbar
2 x 3mm plate boxes for additional weights or tool storage.
1 x spare wheel
Swing out wheel mounting plates for ease of tyre change and wheel bearing access.
11 x 10 ply compaction tyres on Landcruiser 5 stud hubs for easy wheel change and access.
Heavy duty 63mm square bar stub axels for compaction wheels,
Drum scraper bar with replaceable scraper blade.
Lights and registration
Blast and painted 'NEW CAT YELLOW'
Operation and Maintenance Manual
Plant Risk Assessment
Single point for greasing of slew bearing access.
Advantages of DMK Combination Roller:
2 rows of compaction tyres to reduce load and stress on tractor drawbar.
Heavy duty manual travel locking pin with easy use for travelling site to site.
Single lever operation from crushing to compaction operation to allow frequent changing from one application to the other.
Float application operation from cab controller for drum to be floated on road surface at same time as compaction tyres.
Dual locking mechanisms. Single lever operation in cab automatically locks roller front slew axle and levels roller chassis when crushing drum is lowered. Compaction application can be easily locked via second locking mechanism from second lever in cab for embankment compaction.
Single heavy-duty drawbar with wide clearance for tight turning eliminates need to align second drawbar found on some other models.
Replaceable steel self-adjusting scraper blade for continual cleaning of roller drum crushing and float operation.
Sealed bearings to prevent ingress of dust and dirt etc.